Old Grizzly Triathlete TT Records
(Rules/courses)
Old Grizzly Tour
(a six stage event of PRs)
8/3/2008
Decker Climb (Prologue)

Decker 20mi TT

Bellfountain 36mi TT

56mi TT

Decker 5-Hundred

Mary's Peak

Total

-

+6:37

+5:57

-

+3:29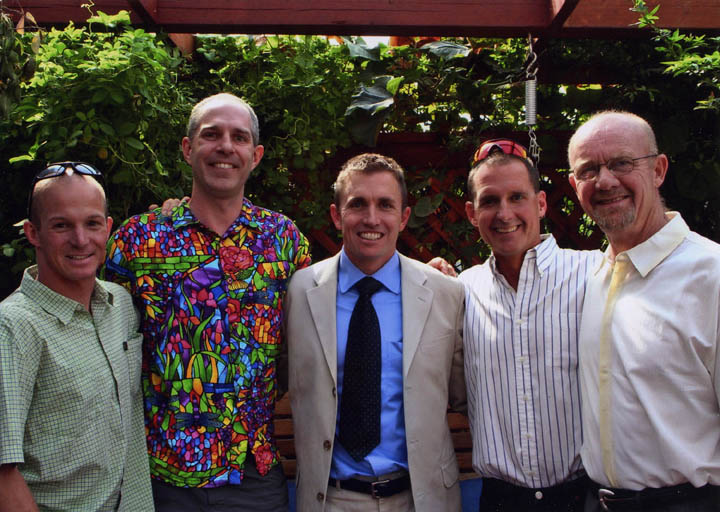 The Doggs (Nate, Lavs, Bill, Taz, Griz) Sept. 2006, B&E wedding.
Sept. 11, 2007 Griz Awards Banquet
Following the rules of the Tour de France, a rider can only wear one jersey at at time.
If a rider holds more than one jersey, they wear the highest ranked jersey and the other
jersey is worn by the next rider in the standings. The Red Poka-Dot "Climbers" Jersey is worn by
the individual with the lowest combined time for the Decker Climb and the Mary's Peak climb.
The maillot jaune (yellow jersey), is worn by the overall time leader. Most valuable.
The maillot vert (green jersey), is worn by the points competition leader (most "wins").
The maillot à pois rouges (Red Poka-Dot Jersey) is worn by the "King of the Mountains"
The maillot souille (dirty jersey) is worn by Griz
The maillot luisant (gleaming jersey) is worn by Taz
Previous Wearers of the Yellow Jersey
Old Grizzly wore all the jerseys, except the "gleaming jersey"
80s until 2002 - 10:34:45